Repair Services
Car diagnostic computer
Modern cars are characterized by increasingly complex motor systems, and as a consequence, they have gained increased fuel efficiency and improved overall functioning, as well as reduced air pollutant emissions. Because of its complexity, the modern engine is controlled by a computer chip. Sometimes the computer can catch errors arising from the use of fuel of poor quality, engine overheating, prolonged driving at maximum speed or with heavy loads.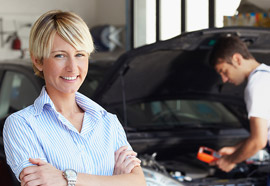 This can cause:

-flashing"check engine"on your dashboard
-increased fuel consumption
-worsened performance
-changed engine sound or uneven ignition

If you have noticed any of the above, please visit our car service. Our technicians will check the condition of your car and help you solve all the problems without delay. If the fault proves to be serious, our mechanics will deal with it easily using the latest engine diagnostic equipment.
Changing your engine oil
Oil changing is a basic requirement in servicing you car which allows you to maintain engine performance and increase its durability. During driving, oil is polluted, and as a consequence, it loses its efficiency and therefore cannot guarantee proper engine lubrication. Therefore, it must be replaced regularly.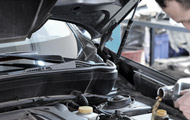 Oil replacement frequency is determined by the vehicle manufacturer , depending on the properties of the oil and engine characteristics . This information can be found in the service manual of the vehicle. Most modern cars require an oil change after driving 15,000 – 20,000 km, or after one year . Frequency is also determined by certain factors such as oil consumption by the engine and driving conditions . During city driving over short distances with frequent stops, and also when driving at high speeds, the engine is working under difficult conditions. Therefore, in these circumstances, it would be recommended that you change the oil more often than every 15,000 – 20,000 km. Considering the pace of modern life, frequent oil changes can only benefit both driver and car . You can either buy it at our place or provide your own . In addition, under a free inspection before any repair, our mechanics will check the oil level in your car. If it is too low, but it doesn`t require replacement yet, they will advise you to refill it. You can always check the date on the sticker left on the cap in your car. In other words, we will do everything to make your engine run smoothly and flawlessly.
Replacing your tyres
Our car service is adjusted to the needs of the client. You can make an appointment with us for the exact date to replace tyres so there is no need to wait and waste time.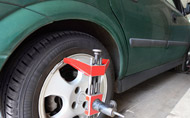 Our services are professional in every way. We cooperate with the most prestigious tyre manufacturers, so we are able to provide our customers with service of the highest quality. We have access to many models and sizes, so everyone will find suitable car tyres. The use of quality tyres ensures safety and comfort on the road. In addition, they make braking distances shorter and have a much better grip, so the driver and his passengers can focus on their trip. In addition, high-quality car tyres are more durable, so provide a perfect money-saving solution . We also offer vulcanization and other services related to tyres, diagnostics, repair and replacement . We make every effort to meet all the requirements of our customers, so our services are worth choosing. Any repair or replacement of tyres is a guarantee of quality, reliability and, above all, safety. So feel free to contact us and visit our website. We assure satisfaction with our professional service.
Car cooling systems
The cooling system in your car keeps the engine temperature down by absorbing the heat generated during the combustion of fuel.
The main elements of the cooling system are:
-cooler
-radiator cap
-radiator fan
-expansion tank
-thermostat
-car heating system
-rubber hoses

Note ! Never open the radiator cap or surge tank cap when the engine is still warm. Hot fluid can spurt violently because cooling systems are working under high pressure. Wait at least 20 minutes for the engine to cool before opening the cover.

Cooling System Malfunctions The thermometer on the dashboard should show when your engine is overheated. Also, a warning light may flash and vapour may come out of your car bonnet. In this case, stop the car and turn off the engine immediately. Let it cool before you check the cause. You may also find puddles of fluid under the car, especially after parking, or your cooling system may need frequent addition of refrigerant.

If you have noticed any of the above problems, it may be due to one of the following factors:
-blocked or leaking radiator
-the outer surface of the radiator is littered with insects, leaves and other debris
-the alternator belt may be broken or slipping off
-leaking or blocked hoses and tubes
-leaking or damaged water pump
-faulty radiator cap
-leaky heating system
-closed thermostat

In case of overheating, you should take the car for servicing as soon as possible. Replacing the rubber is less expensive than replacing the engine.

Take care of the cooling system The 4 motion garage allows you to check the condition of the cooling system in your car regularly, especially before a long trip. Our technicians will check if there are any leaks and will make sure your radiator and fan are working properly. Before winter , check the freezing point. We will repair, replace or remove rust or dust from any part which requires it.

You can be sure that we will:
-explain why and what needs to be repaired
-not apply any service that does not meet with your acceptance
-adjust to your time and funds
-present a fair price before completing the service
-clearly explain what has been done
Car suspension system
Modern suspension and steering system consists of many components that should be checked periodically.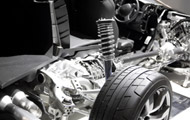 Damaged shock absorbers, springs, bushings, pins, arms or any other part of the steering and suspension may hinder control of the vehicle, uneven tyre wear, knocking noises, inefficient braking and uncomfortable driving, which in turn, can lead to total loss of control of the vehicle. 4 motion mechanics check the suspension and steering at each service or repair.
Brakes - diagnostics and repair
Our mechanics check the brakes in your car during your every visit. However, if you have any doubts as to their correct operation, visit the 4 motion garage. Our experts will check the brakes and advise you of the best solution, and then arrange to repair it at a time convenient to you. Our range of services includes checking, replacement of brake pads and replacement of brake fluid if necessary . This is important, because smooth operation of brake fluid decreases with the time, which can affect the efficiency of braking.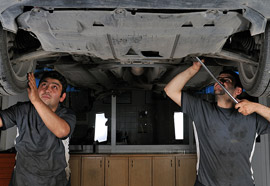 It is very important to checked the brakes regularly and always when the following happen:

-brake pedal works too soft and spongy,
-it's hard to press the brake pedal, or a lack of effective braking
-wheels are locked during braking ,
-brakes generate heat and /or smoke from one or more wheels
-the car pulls to one side while braking
-the brake pedal is pressed too firmly, even with the slight braking
-brakes emit squealing or whining sound
-frequent refilling of brake fluid
-traces of liquid on the wheels or tyres
-the brake pedal vibrates while braking

Engine and gearbox
In modern cars , there are two types of gearboxes - manual and automatic. The use of manual gearboxes involves the following items: clutch, clutch pedal and gearshift lever . The clutch is responsible for the transfer of power from the engine to the gearbox. This is done by means of the clutch disc, the surface of which is made of the material used in the brakes . As time goes by, the surface of the clutch disc wears out and should be replaced regularly.


A worn out clutch can be recognized when:
-there are difficulties with shifting or using the neutral gear
-RPM increases, but the speed does not change
-it is difficult to drive uphill
-you can detect a burning smell inside the car

4MOTION mechanics are able to easily evaluate clutch wear . If it needs to be replaced , we do so easily at a convenient time. We also repair motors.
Car electrics
Our firm guarantees high quality service. We detect all types of errors and fix them.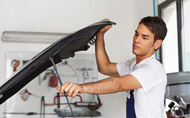 Additionally, we monitor electrical systems, carrying out various tests and checking the efficiency of your computer in the car. All these activities are designed to fix problems or defects and eliminate them.

Free car checks If your car is not working as it should and you do not know the reason, come to 4 motion Garage , and we will immediately assess your vehicle for free -" Free 10 Pack"

The pack includes:
1 exterior lighting ,
2 the oil level in the engine,
3 coolant level ,
4 brake fluid level ,
5 the condition of the wiper
6 tyre air pressure and condition of the tyres.
7 suspension
8 brakes
9 steering system
10 exhaust system


If it is possible to repair your car right away, then we will. You can also make an appointment at the right time for you . Of course, our technicians will tell you why and what needs to be repaired or replaced, and how much it will cost.

Information that will help the mechanic to identify faults:
-In which situation has your car started behaving strangely?
-How often does the problem occur?
-Is the problem increasing?
-Have you tried to fix the problem yourself?
-Has the car recently been serviced?
Car exhaust system repairs
The exhaust system plays a key role in any car. When there is a fault, conditions in the interior of the car may be not only loud and unpleasant, but also problems with the exhaust system affect the operation of the engine. For this reason, an immediate reaction to such disturbing signals and a visit to our service centre is necessary . We offer complex services in the area of repairing exhaust systems. We offer repair, and replacement, if necessary . In our work, we use both modern technology and traditional effective methods, so that we are able to offer customers the highest quality of service.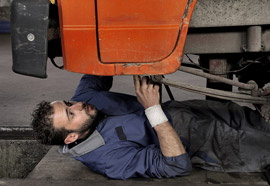 Our repair is fast and complex, each client is fully informed about the state of the exhaust system and about the necessary repairs or replacements. Take advantage of our offer in the field of exhaust systems. We always use high quality products so that our customers benefit from long-lasting effects and can enjoy a safe and fully comfortable ride. We invite you to visit our service centre for comprehensive diagnosis and possible repair. It is worth it to ensure the efficiency of the exhaust system, because in this way, each driver gets a trouble-free ride. You should take care of your car engine, which extends its life. Therefore, we encourage you to take advantage of our extensive range of services in this regard.
Find Us

gaol road kilkenny
R95DK10



Phone:

085 722 81 49
085 173 05 52

E-mail:

4motiongarage@gmail.com

Opening hours:
mo. - fri.: 9:30 - 18:30
sat.: 9:30 - 14:30